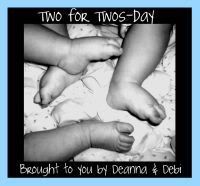 Today I'm participating in 'Two for Twos-Day' when we post a photo of a favourite twosome. It is currently being hosted by Debi at
Who Says 8 Is Enough?
I love this shot of one of my favourite twosomes. It's Will's legs you're seeing, in case you didn't recognize him.