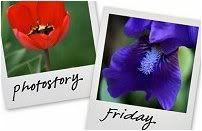 Hosted by Cecily and MamaGeek


I had a scare this week. My laptop went kaput over a month ago and I didn't have the money or the courage to call up my computer guy to repaire it. I needed the courage to find out first, whether or not I could afford the repair and second, I needed the courage to face the possibility that I may have lost all of my photographs and videos taken in the past two years. My own stupidity caused me to not bother to backup everything on to my external hard drive. I've learned my lesson. Lucky for me, Johan~ said computer guy~ manage to salvage all of my stored documents, but the bad news is that I just nearly paid a car payment on the cost of the repair for my replaced hard drive.
Having my pictures back gave me the chance to browse through some again and reminisce. I was even more thrilled to find yet another blogging game that would satisfy that need.
This is one of my favourite photographs. It was taken last summer and when I see it, I can't help but remember the beautiful location where it was shot. It was our one and only, first family holiday. We rented a cottage in the Shuswaps, British Columbia.
We had waited a long time for Owen and Will to be ready for such a thing. Prior to that vacation, they hadn't slept in any bed but their own. All of our fears ended up being unfounded and the holiday was a success. This particular photo of Jake makes me laugh everytime I see it. Two seconds before the shot, I had just told Jacob that I could see Shirley the Shuswap Monster swimming up behind him. You've never seen a kid doggy paddle so fast. :)